"Preparing K-12 Teachers to Navigate the Data Stream: Great Opportunities and Challenges"
Christine Franklin, University of Georgia
Abstract
The United States is struggling to achieve a level of quantitative literacy for its graduates to prepare them to thrive in the modern world. Given the prevalence of statistics in the media and workplace, individuals who aspire to a wide range of positions and careers require a certain level of statistical literacy. Because of the emphasis on data and statistical understanding, it is crucial for us as educators to consider how we can prepare a statistically literate population. Students must acquire an adequate level of statistical literacy through their education beginning in kindergarten.
The Common Core State Standards for mathematics (that include statistics) in grades K-12 have been adopted by the most states and the District of Columbia. The standards for the teaching of statistics and probability range from counting the number in each category to determining statistical significance through the use of simulation and randomization tests. Soon, and for the first time, most of our entering college students will have been taught some statistics and probability, so our introductory college statistics course will have to change. In addition, we must rethink the preparation of future K-12 teachers to teach this curriculum. K-12 teachers must be well versed in statistics. Change in teacher preparation must thus be implemented in order to respond to the call from society for an increase in statistical understanding.
This presentation will provide an overview of the statistics and probability content of these standards and describe the knowledge and preparation needed by the future and current K-12 teachers who will be teaching using these standards. A new ASA strategic initiative, the Statistical Education of Teachers, will be outlined and the desired assessment of statistics at K-12 on the high stakes national tests will be explored.
Materials
Links
Bio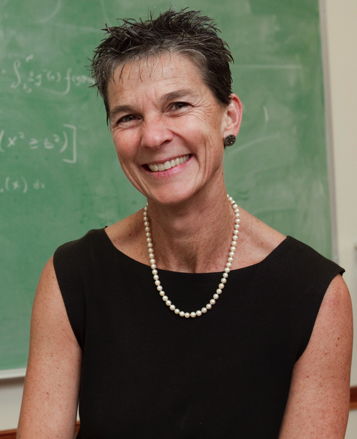 Christine Franklin is the Lothar Tresp Honoratus Honors Professor and Undergraduate Coordinator in Statistics at the University of Georgia and a Fellow of the American Statistical Association. She has been recognized with numerous teaching and advising awards at UGA. She was the lead writer for the American Statistical Association (ASA) Pre-K-12 GAISE Framework that served as the basis for the statistics strand in the new national Common Core State Standards for K-12 mathematics. She is currently chairing the writing of the ASA Statistical Education of Teachers (SET) report. She is a past AP Statistics Chief Reader and was honored in 2006 with the Mu Sigma Rho National Statistical Education Award. She has written two statistics textbooks in addition to approximately 40 journal articles. In May 2013, she was honored with the United States Conference on Teaching Statistics (USCOTS) biennial lifetime achievement award. She is a 2014-15 Fulbright Scholar and will spend five months at the University of Auckland, New Zealand working with statistics educators in K-12 Statistics.
Recording
(Tip: click the fullscreen control)
Having trouble viewing? Try: Download (.mp4)
(Tip: right-click and choose "Save As...")
Comments
No comments.