Establish the area of statistics education research as a recognized discipline with a visible presence, connect researchers from diverse disciplines that inform knowledge about teaching and learning statistics, collect and disseminate resources on research in statistics education, promote statistics education research.
Current goals and projects
Maintain the CAUSEweb Research pages.
Organize sessions at USCOTS and Joint Statistics Meetings (when possible).
Conduct webinars on topics related to statistics education research.
Collect and disseminate materials from graduate programs designed to prepare researchers in statistics education.
Create ways to improve linkages for researchers working in different disciplines.
Be available to advise statistics education research projects.
Facilitate collaborative research teams (through the Research Cluster of CAUSEmos).
Advise and connect to the INQUERI Project.
These projects are a collaborative effort of the Research Advisory Board.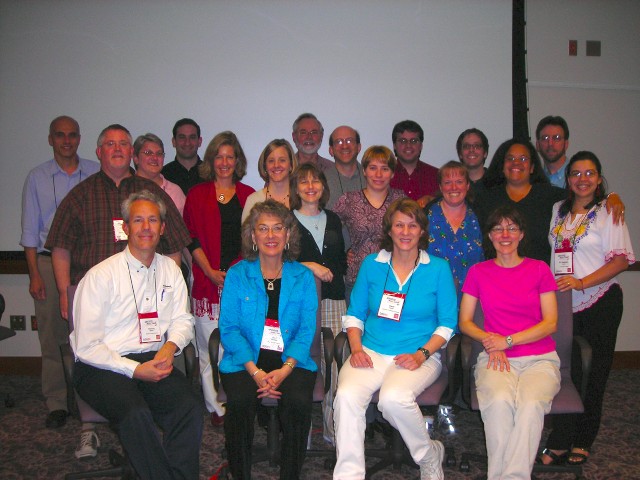 The newly-formed Research Cluster poses after a productive meeting at USCOTS 2007 (asterisk indicates member of the Research Advisory Board).
Front row: Sterling Hilton*, CAUSE Associate Director for Research Joan Garfield*, Diane Fisher, Marsha Lovett*
Middle row: Neal Rogness, Michelle Sisto, Tisha Hooks, Jennifer Kaplan, Leigh Harrell, TJ Murphy, Felicity Enders*, Alejandra Sorto
Back row: Nicolas Christou, Jackie Miller*, Michael Posner, Dale Berger, Larry Lesser*, Randy Groth*, Andy Zieffler*, Bob delMas*
Not pictured: Rebecca Pierce, John Holcomb*