---
Presented by
Robin Lock, St. Lawrence University; and Julie Legler, St. Olaf College
Saturday, January 5, 2008, 8:30am - 5:00pm
About
Intended for faculty and chairs/representatives of mathematics departments looking to establish or invigorate an undergraduate statistics program, this one-day workshop is being offered on Saturday, January 5, 2008 at the Convention Center in San Diego, California. This workshop, supported by SIGMAA-Stat Ed and selected as an MAA Ancillary Workshop, will precede the Joint Mathematics Meeting in San Diego, CA which begins on Sunday, January 6, 2008.
Many colleges and universities are recognizing that this is an opportune time to establish or invigorate an Undergraduate Statistics Program or USP ( i.e., programs that offer majors in statistics as well as those offering statistics minors, concentrations or tracks within other majors). Is this a good time for your department to strengthen its statistics program? This workshop will explore this question and provide some useful information with respect to enhancing your USP. The Workshop takes a two pronged approach to USP planning. First, participants will use resources to assess the potential and to facilitate planning for a USP at their institution. The resources will include the ASA Undergraduate Statistics Education Initiative (USEI) which provides valuable, thoughtful guidance for institutions creating or developing USPs. In addition to examining the USEI guidelines, the workshop will include sharing the experience of a number of successful undergraduate statistics programs, identifying issues your department may face, discussing and proposing solutions, and constructing a plan for your own department. This workshop will address issues related to curriculum and course development, especially beyond the introductory level, as well as some of the many practical, administrative issues institutions face when considering initiating or enhancing a USP.
About the Presenters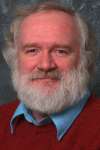 Robin Lock, St. Lawrence University
Robin Lock is the Jack and Sylvia Burry Professor of Statistics at St. Lawrence University. He has published papers and been invited to speak at numerous conferences and workshops on new methods, uses of technology, and web resources for teaching statistics. In addition to issues in statistics education, he is interested in applications of statistics in sports.

Julie Legler, St. Olaf College
Julie Legler is the Director of the Statistics Program at St. Olaf College in Northfield, Minnesota. Her current interests focus on innovation in statistics education with particular emphasis on the undergraduate curriculum along with ways in which to attract and encourage students to study mathematical sciences at the undergraduate and graduate level. She also has designed and offered a course on Global Health and Biostatistics in Geneva, Switzerland. She encourages students to consider ways in which they can use statistics to be of service in their own communities and internationally. She is the founder of the Center for Interdisciplinary Research which promotes research-based learning through NSF-sponsored Undergraduate and Post-doctoral Fellowships, Seminar Series, and Team Collaborations across the disciplines.
Workshop Logistics
Saturday, January 5, 2008, 8:30am - 5:00pm in room 10 at the San Diego Convention Center. There is no registration fee for this workshop. Workshop materials and lunch during the workshop will be provided. Enrollment is limited to 30. Workshop participants are responsible for their own transportation and lodging. Be sure to register for JMM and book your rooms early through their lodging service to obtain conference rates for your JMM stay.
Expectations
Please note: CAUSEway workshops receive principal funding from a National Science Foundation grant. As part of that award, Science and Mathematics Program Improvement (SAMPI) at Western Michigan University will be conducting an independent evaluation of all CAUSEway activities and workshop participants are expected to fully participate in this evaluation.